Meet the Owner of Senza Gluten – Teona Khaindrava
---
Teona Khaindrava was born in the country of Georgia and moved to the United States after she completed her college degree in both finance and journalism, as well as a masters degree in finance. She was also a professional fencer and loved spending time playing classical piano. As she pursued careers in journalism, accounting, and economics, she never would have guessed that just a few years later she would be opening a dedicated gluten free restaurant in NYC. 
Teona has always deeply cared for others. While she does not have celiac disease herself, it was evident how difficult it was for individuals in the community to dine out safely. Wishing to help, in 2014 Teona and her business partner at the time opened the doors of a quaint Italian restaurant on a quiet street in NYC. From ordering, to the kitchen, to the dining room – everything at Senza Gluten was 100% gluten free. 
You've likely seen Teona bustling about the dining room in the evenings – greeting guests, answering calls, serving tiramisu. Most of her time during the day is spent busily working behind the scenes – ordering supplies, discussing allergen policies with manufacturers, training staff, and meticulously making sure everything is perfect for dinner service. 
One of Teona's favorite things to do is to sit down with guests after their meals and simply listen to their stories – how they were diagnosed, struggles, joys, travels, what foods they missed the most. These conversations were the inspiration for many new dishes on our menu. She's also always thrilled to see guests celebrating special occasions at Senza Gluten (Teona describes herself as the worst happy birthday singer but always excitedly joins in the celebration).
When she has a rare night off, Teona enjoys going to the opera – Puccini's Tosca is her favorite. She loves traveling, especially to see her family back home in Georgia – her son Nikoloz, daughter-in-law Mariam, and her granddaughter Nikki (who Teona describes as "her sunshine").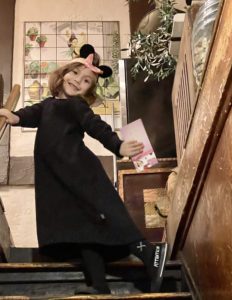 "I would personally like to thank everyone – all of our guests from around the world, as well as our friends in New York. Your support means everything to me, and I'm honored to listen to your stories. So many guests have told me how meaningful it was to be able to order anything off the menu, or how after fifteen years they were finally able to eat cannoli again. This fills my heart. Running a 100% gluten free restaurant is not an easy task, but you give me so much strength. I leave the restaurant at the end of the day tired but always very happy that I could make a difference in someone else's life, even for just one meal." – Teona